AmOne
For more than 20 years, AmOne has provided a free service connecting borrowers and lenders. The company reviews customers' financial data, allowing them to match up with the right lender quickly and accurately. Throughout this time, AmOne has helped people secure billions of dollars in loans.
Go to the service

AmOne
Get instant offers of personal loans up to $50,000
Rating 4/5:

No credit score check

Credit calculators on site

Loans without collateral

Lenders tend to call customers
Payment information:
AmOne, 950 Tower Lane, 6th Floor, Foster City, CA 94404
Tel: 1-800-781-5187
Email: info@amone.com
Go to the service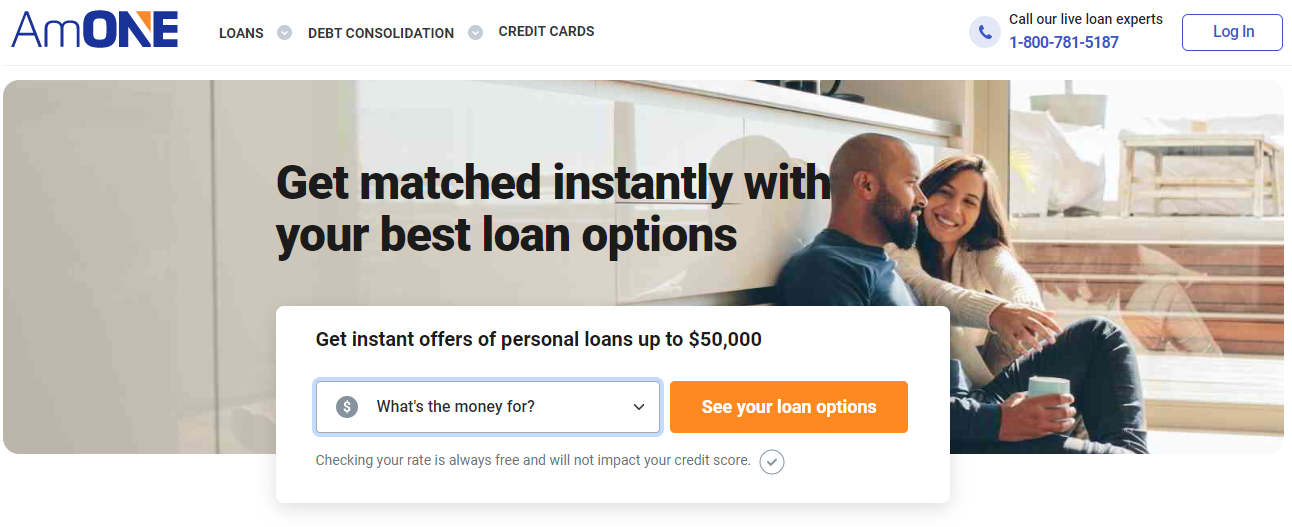 AmOne is a personal loan marketplace which connects applicants to lenders offering up to $50,000 with free applications and no credit score inquiries when only applying. Their service has received positive reviews for its efficiency and speed of connection between applicants and lenders, and over a million customers have successfully used the platform. Loans typically carry higher interest rates than offered at banks or savings and loans but don't require collateral.
Types Of Loans
AmOne offers personal loans from $1,000 to $50,000, which can be beneficial for borrowers with lower credit scores. To apply for a loan through AmOne, individuals must be over 18, a US citizen or permanent resident, and authorize the lender to do a hard pull of their credit report.
Debt Consolidation
Taking out a loan to cover debts can be a good option for many people. It offers an opportunity to consolidate or refinance existing debt, as well as providing funds to pay off outstanding balances and move forward in terms of money management.
With AmOne.com, it is possible to find a loan that works best for you with flexible repayment options tailored to your financial situation. Not only does this give you breathing room and room for negotiation with creditors, but it provides the opportunity to make substantial savings on interest rates over the lifetime of the loan.
As such, if you're already in debt, AmOne.com can be a great resource when it comes to finding viable solutions and determining which step forward is best for your financial future.
Student Loan
Higher education can be expensive and it is important to budget your money wisely. AmOne Student Loans provide a way for students to cover the costs of tuition, books, rent, and other school-related expenses without having to drain their savings. With flexible repayment plans and competitive rates, AmOne makes it easy for students to get the help they need with financing their education.
Whether you're a student or the parent of one, AmOne is here to help you make higher education more affordable.
Build Your Credit Score
Taking an AmOne loan is a great way to build your credit score. Not only can it provide you with the financial resources that you need, but by making regular and on-time payments, your credit score will start to rise. Making larger payments if possible and then retiring the debt entirely can boost your credit score even further. The process may take some time, but in the end it will be worth it for obtaining a better credit rating!
Other Types of Loans
AmOne is a financial service that helps people secure the best rate and the right loan type for their unique situation.
Whether you are looking to finance a vehicle purchase, make necessary auto repairs, start a new business venture, purchase or improve upon a home, invest in opportunities, take care of medical or dental needs, move, cover student loans or tuition expenses, pay off unexpected costs or debts, plan for your dream vacation, cover wedding costs or simply further your financial goals – AmOne has something to offer.
Go to service